Acknowledgments to parents
Portrait caricature as a thank you
Portrait caricature done by a professional can be a great place Thanks for the wedding. For you by a professional? Or maybe an amateur? We have to consider that it is a gift, and only when people will be drawn like in the picture, This figure can only give as a gift. In caricature, we can take into account any hobby, occupation, any vehicle, aircraft, domestic and wild animals, buildings. Can be shown to add a caption or dedications.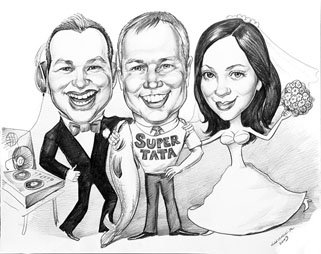 Portraits in thanks to parents
photos
If your parents do not like jokes in the form of cartoons, you can order a portrait of the parents or the bride and groom in two copies.